Riseform Flyfishing Ventures BLOG » On the Waters » It is still winter but ice off is not that far off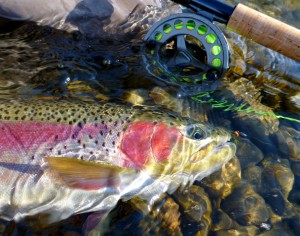 It is early March and the local lakes are still well frozen. We have had a very mild winter in terms of air temperatures but a fairly decent snowpack which will really help out with lake water levels. I am busy tying up chironomids and leeches which will get a fair bit of use as soon as we do get open water. In the mean time I have been out chasing wild rainbows in the local rivers.
It won't be long so now is the time to get your gear organized.
Filed under: On the Waters